Last Updated on April 11, 2022 by Dave Schoenbeck
Thanks to the Internet, we now can move entire businesses into the virtual world. This gives business owners a chance to connect with new people, hire the very best individuals from around the globe, and provide work-from-home opportunities that many employees crave.
That said, far too many business owners have switched to a virtual team without entirely thinking the decision through. Unfortunately, this has led to many failed businesses and unhappy teammates.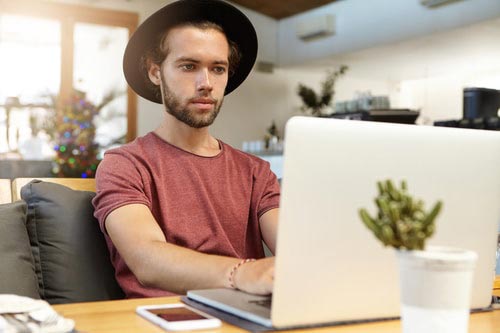 Fortunately, your business can avoid this fate by following the simple steps below.
1. Hire Smarter
The first step to ensuring your business is successful is to be mindful about whom you hire. While you want your team to be diverse, and a virtual team might seem a good idea, it's also essential that the individual team members can relate to one another. Here is a tip.
Additionally, self-motivated people are much more likely to be successful in a virtual work environment. You can discover whether potential employees are self-motivated by looking at the types of work they've done in the past and consulting with their references. I suggest using predictive science vs. "gut feel" to help select successful future employees.
2. Communicate Often, Using the Right Tools
Communication is critical when it comes to managing a virtual team. Therefore, you must have the proper tools to engage in such communication.
For instance, Skype, Zoom, and other similar video call providers are perfect solutions for handling team meetings as they keep people engaged. These solutions also work well for one-on-one calls.
As far as quick questions go, a proven collaboration program such as Slack can be invaluable. This will allow your team to communicate in real-time without making a phone call or sending a formal email for every question. It's also searchable and allows the entire team to see conversation threads in case they might have other questions.
In addition to necessary work communication, it's also essential to offer some way for your team members to bond on a personal level. This can be done through Slack's assigned "chit-chat" channel or another similar program. An excellent investment is physically bringing your entire virtual team together for quarterly meetings. Social time builds teams.
3. Set a Regular Meeting Schedule
All members must make it to meetings regularly. You can ensure this happens by setting a regular meeting schedule for the team and one-on-one sessions. But, most importantly, you've got to stick to your plan.
When making this schedule, be aware of the various time zones you may be working with and plan meetings in an overlapping time that make sense for everyone. This will also help ensure everyone is present.
4. Ensure Clarity in Details and Expectations
When handing out tasks to individuals on a virtual team, it's essential that you very clearly dictate your expectations. Your explanation should include deadlines and defined details about the job itself. This will ensure you are not disappointed in the finished product, as employees will be less likely to ask for your input when they don't see you daily.
Programs such as Smartsheet or Trello (my favorite) can help with this by allowing you to communicate changes to project details and send deadline reminders when needed. It would be best if you didn't use these programs to micromanage, as this is sure to lead to resentment.
Managing offsite workers doesn't have to be a headache. You can easily set yourself up to run a well-oiled virtual business machine. By following these steps, you will be well on your way to managing a productive and inspired virtual team.
Are you looking for more tips on working with an online team? I can help with that! Please fill out my contact form for more information.

Latest posts by Dave Schoenbeck
(see all)